Hello Everyone--I have a fun layout using all of my boarding passes from my recent trip and Cricut Going Places Cartridge-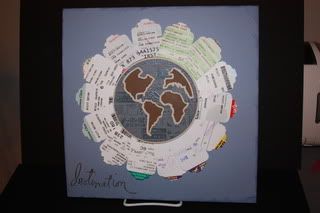 I cut the world in blackout shadow, shadow, and base cut all at 5 1/2" inches. Centered it on the page and inked the edges. I punched the boarding passes with a large tag punch to make them all the same size and shape.
I used solid card stok for most of it--but the base cut was done in a printed paper from Michaels that has a high gloss UV print--I liked how it added texture and shine with out being to strong!
I added a stamp to the lower corner and called it good! I think this is going to be the closing page of the album I am going to do for this trip!
I have another project using this same cut to show on Wednesday!
Thanks for stopping in-
Bryan