Well the week is over and I am still running late. I planned to have this posted early this morning but that simply did not happen! As you all can see, I LOVE STUFF!!! I never thought I would have this many people reading my blog but I AM SOOOOO GLAD YOU ARE!
I had such a great time at CHA! I not only found some great things to share and craft with but I made some great friends! I had so much fun hanging out with and getting to know Mel, Joy, Tammy, Megan, and everyone else. I never expect that people that provide so much insperation would become such wonderful friends.
Here are a couple of pics from the cricut booth and the demo stage:
The cricut cake:
Joy (happyhappyjoyjoy) on stage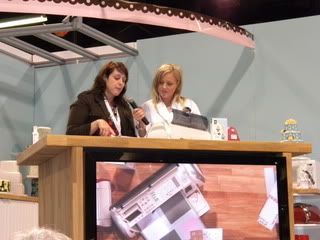 for some reason I did not take nearly as many pictures as I has hoped--could it be that I was distracted by all the stuff I thought I had to have! LOL! Guess I should try to make room in my scraproom for all of my new stuff!
I am really looking forward to sharing more ideas and finds--I have some great things in works (layouts, cards, etc) I am not a card maker but I starting to branch out! I hope you all will enjoy.
I have read all the comments and am looking forward to using this weeks featured products in the near future--let me know if you end up using them, would love to see how you all put them to work for you.
I will draw the winners and post them on Sunday Morning!!! Be sure to check back to see if you are one of the lucky winners. Today is the last day to comment so leave one on this post for an extra chance to win the grand prize camera/gypsy bag! All winners will have 2 weeks to get back to me with the shipping info or it goes back into the hopper.
Have a great weekend!
Bryan