It's Good Friday and I hope your Easter weekend will be filled with Family and Friends. If you have been following my blog for the past couple of months, you know I do a calendar as my first post of each month. This month I wanted to show that when you detail you die cuts it makes the world of difference.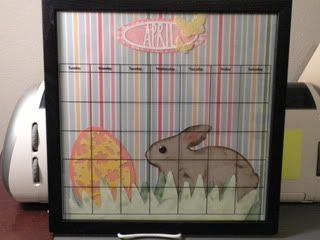 I used chalk inks, glimmer mist, fine tip markers, and a couple of felt butterflies. I am a firm believer of a heavy hand in inking—I love the highs and lows you get. I layered two colors of green for the grass and placed the rabbit behind and used a brand for the rabbit's eye. I cut the Easter egg with two colors. For the yellow layer I also used yellow glimmer mist to give it a little shimmer!
Come back next week to see the projects I made with and Asian Flair—since I am overseas I thought this was a great opportunity to showcase Cricut Pagoda and the Asian Cuttlebug Bundle.
Hope you have a Happy Easter!
Bryan