Happy Birthday Sarah! In celebration of Sarah's birthday we have planned a Super Secret Surprise Birthday Blog Hop! Say that 7 times while spinning in a circle.
Since Sarah's fav things include zebra and pink I thought this was very fitting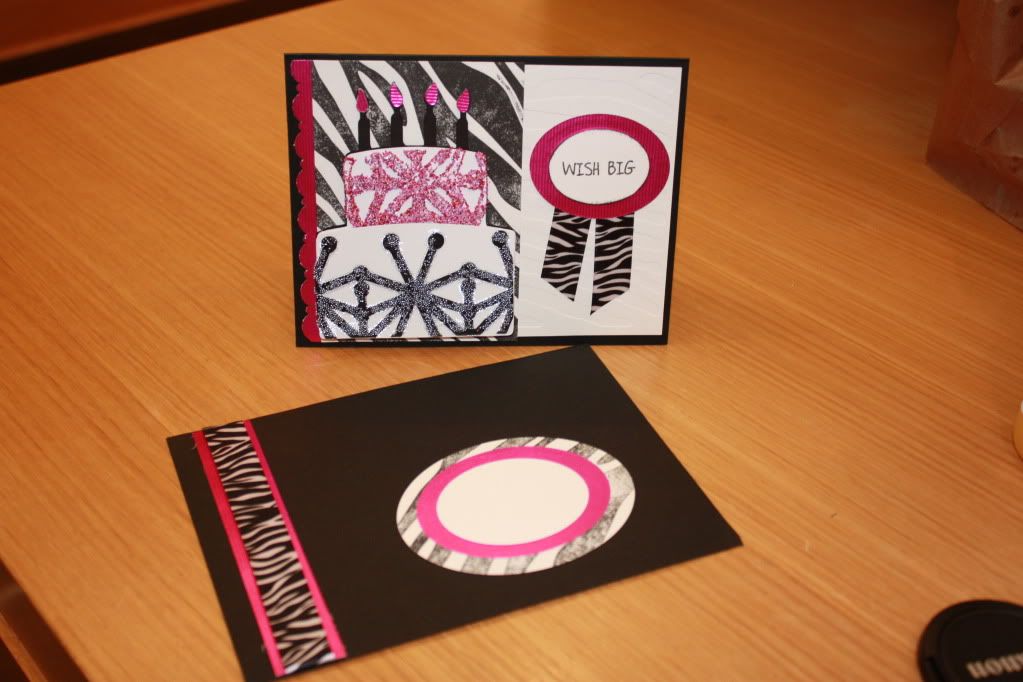 I simply love this cricut cut and the colors are so much fun!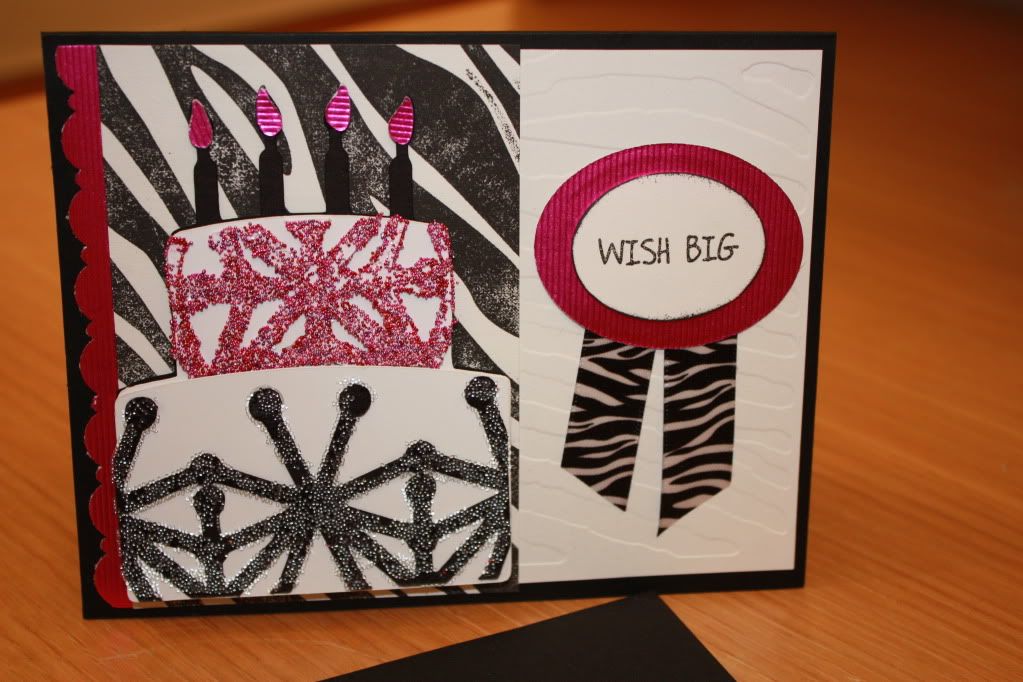 I used the Pink By Design Zebra background stamp and layered up the cake with foam squares. I punched a border from the metallic paper to run along the left side to tie in the pink.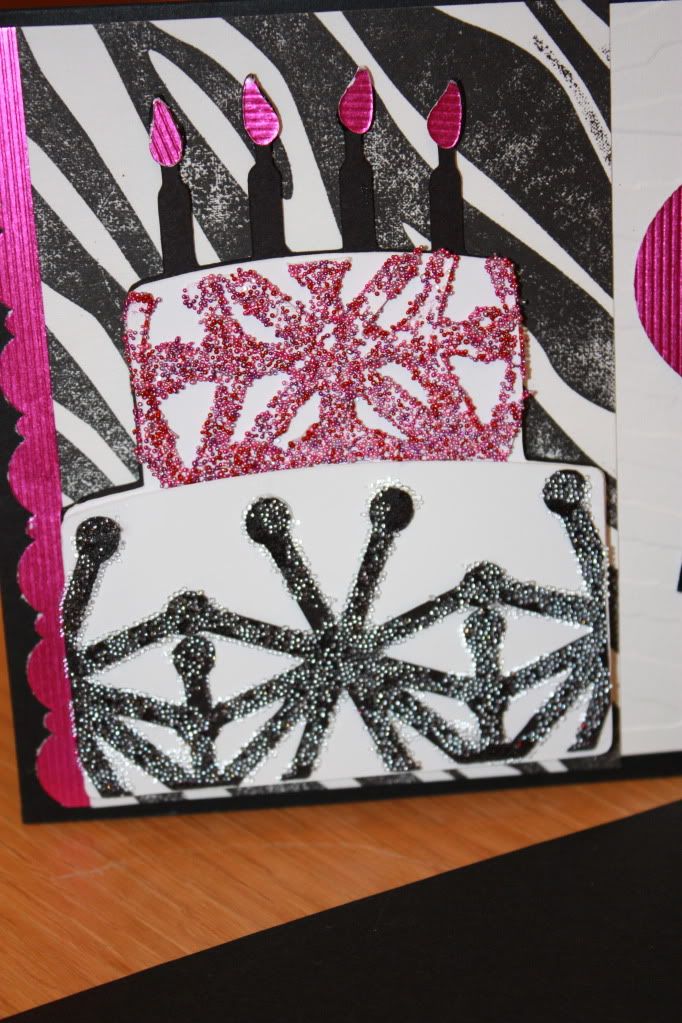 The cake layers were cut and assembled with foam squares and 3m quick dry glue. I sent the 'icing' accents through the zyron upside down and added clear and hot pink micro beads (sprinkles) to give it some bling and a cupcake kind of feel.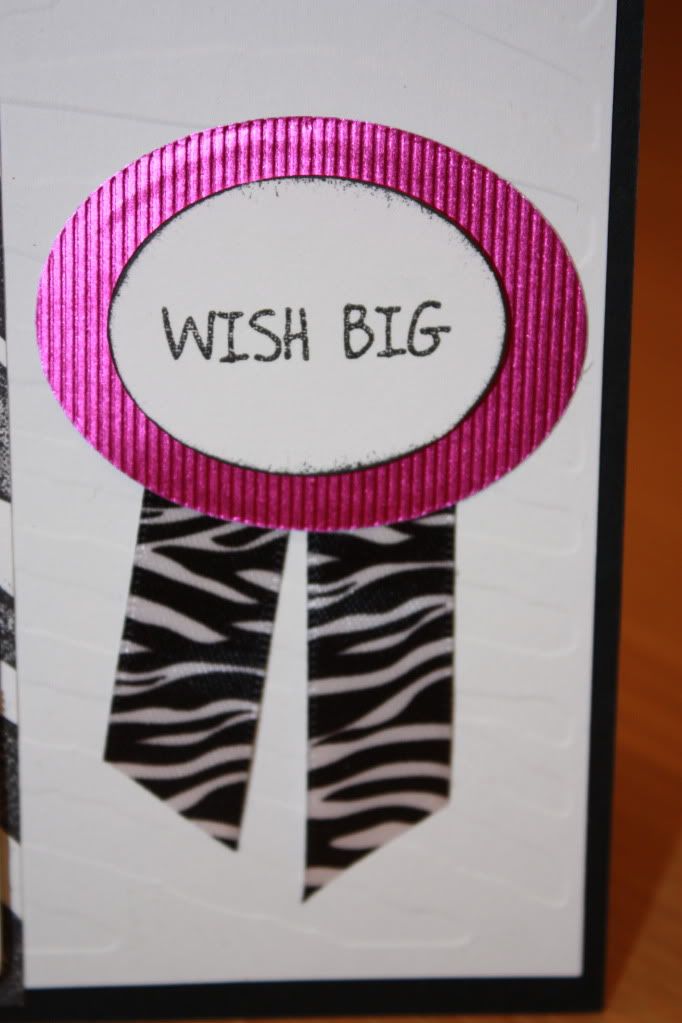 For the far side of the card I made a birthday badge--inking the edges and using a Pink By Design Stamp set called Oh Boy! (one of my all time favs). I found this zebra ribbon at Michael's--perfect for this card.
Of course I had to do something with the inside--a little ribbon, some shiny borders and a white base to write in--easy and simple yet adding a nice punch!
OK, so now to the hop part--below you see the list of everyone taking part in this fun Hop!! There are a number of prizes and lots of great projects to be seen so make sure you stop and see everyone one listed. To have a chance to win the blog candies (cause there are many) you have to leave a comment on each blog and you have to wish leave birthday wishes on Sarah's blog (hers is the last one listed). Links are next to each on so click away.
The blog candy I am offering is one of the great Close to My Heart books that I love to use and own all of them. You will love it cause if you are ever at a lack of creativity or out of ideas--this will be a go to guide!!! Winner will be announced on Saturday!
Paula~
www.morethanfavors.blogspot.com/
Kristi~
www.littlepapersprinkles.blogspot.com/
Nikki~
www.scrappinnavywife.blogspot.com/
Guest Designer Pinky~
www.blueyecicle.blogspot.com/
Elizabeth~
www.217creations.com/
Candace~
www.papercraftsbycandace.blogspot.com/
Michelle~
www.scrappinwithmybug.com/
Jenny~
www.crazyaboutcricut.blogspot.com/
Guest Designer Momo~
www.madebymomo.blogspot.com
You are here Now
Bryan~
www.scrapguy.blogspot.com/
Meriah~
www.twoscraptasticgals.blogspot.com
Sarah~
www.pinkcricut.com
(Kyle will have a project to post on Sarah's Blog)
If you are new to my blog--feel free to become a follower as I post projects 3-5 times a week. Make sure you hit up all the blogs cause there are treasures (ideas and candy) beyond every click of the mouse!
Make it a great one!