Happy Friday! I think this is my favoriet day of the week!
Today I have a card for you that is a paly on words and fits right in for St. Pat's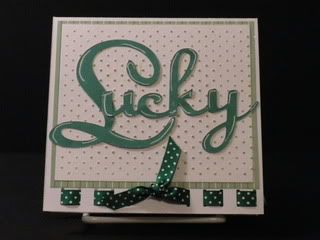 The card is 5 1/4 by 5 1/4. I used white card stock and scored it down the center. I used a double mat with a green stripe being the bottom and a white being the top. I cuddle bugged the white with swiss dots and then used Range ink to give the embossed section some color--and of couse inked the edges.
I used a fiskers edge punch for the ribbon hole placement. I love this, I used two small pcs of ribbon that were left over from another project--then I joined them with a knot. Lucky was cut from the Cricut Songbird font, which remineded me of the Lucky Jeans logo. To give the letters some diminsion, I tried to ink the edges with a white SU pad which was way to big for the job. Still not happy I took my white gel pin and added some 'shadow' which helps the letters pop!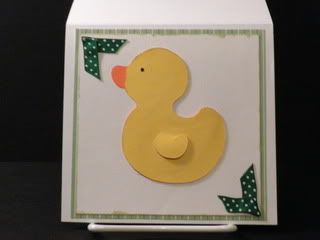 The inside is simple--I used the same papers as the front of the card and mitered a couple of bits of ribbon in the corners. The rubber ducky was cut from the Cricut Everyday Paper Dolls. I cut it in both yellow and orange so the beak would look like a real rubber ducky. I just cut the yellow beak off and used my black pin to color in the eye.
Have a great weekend!
Bryan