Hello Friends--it is so great to see you all this fine (and very hot) Monday morning. I had a great weekend with my Mom shopping for scrap stuff--and boy did we shop! We headed out to the Great American Scrapbook Show and did a lot of damage to the checkbooks---I got so caught up in the moment with all the fun stuff and super great buys! I can not wait to go again in October in Kansas City.
Saturday we met up with a Bobbie and went to a couple of local--well sort of local-scrapbook stores.
First stop, Anthologies (
check out their blog
) which is located at 129 W
Harwood
Road in Hurst Texas.
If you want to c
heck out their website click here
.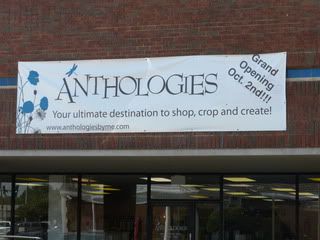 I have to admit I did really well---only spent about $10 here--cause I know I can come back when ever I want! You have to check them out--they have a team of really amazing designers and a great crop area. The store is full of everything you will not find at a big box craft store. They also offer some really cool classes.
Once we wrapped up or fun at Anthologies--we headed off to
Waxahachie
Texas to visit one of the best scrapbook stores I have ever been into--a must visit!
CRAFTY SCRAPPER
has an amazing selection of paper, a wall of Tim
Holtz
embellishments and tools, an assortment of ribbon that I am still talking about, and a section of the store for inks, chipboard, and other fun stuff including wood paper--that is right wood paper!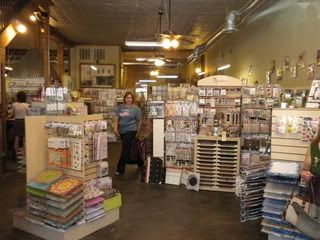 The staff were super nice and we ran into some fellow scrappers that had been at the show as well---so here is a shout out to Debi and the other lovely ladies we had the pleasure to meet!
If you are able to visit you have to stop next door for lunch a
The Doves Nest
. I had the most amazing sandwich. It had turkey and ham--topped with this amazing cheddar bacon cheese spread!
OMG
was it yummy--and the whole place was just so cute!
Not only was the food super tasty but the shop had such cute gifts and knickknacks. I found a grab bag that had vintage trims, beads, buttons, and music paper--had to have one. I also got a scoop of vintage buttons--super unique and they will be great on some of my future layouts!
Sunday, my mom and I attended the 2:00 showing of WICKED! It was
sooo
good! after the show was over, we had dinner and thought we would just see if, just by chance, the
Wal
-Mart near by had any of the new cartridges that have been all the buzz this weekend! No luck--my wallet was already empty so those will have to wait for another day. Over all a great weekend.
I will be sharing some of my finds and bargains in the coming days! If I showed all of them at once y'all would think I am crazy and a bit
OCD
on the paper purchasing!
I will have a post everyday this week and maybe even a give away!
Talk with you soon!