So today is my first opportunity to share in a monthly segment on
Everyday Cricut
where I show a guy's approach to paper crafting. I made a number of projects and wanted to share a few more with you on my blog.
There is blog candy to be had!
To have a chance to win--become a follower and leave a comment below. There will be two lucky winners. One will receive the
Cricut Songbird cartridge
featured in all of my projects today and another will win the
K&Company: Amy Butler patterned paper pad
.
You can
DOUBLE
your chance to win by going over to Everyday Cricut and checking out the additional projects over there and leaving a comment. Winners will be announced next Wednesday right here on Scrapguy!!!
I used Cord'inations WhiteOut and embossed with the Cuddle bug Divine Swirls and sanded it down. Only three gems to add a little bling but not make it to in your face.
size is A7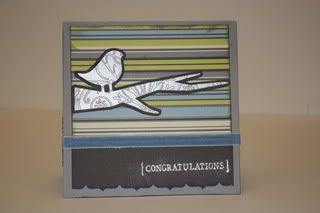 I embossed a cut of metallic paper for the main cut. I used another Fiskers edge punch, the velvet ribbon again, and heat embossing to complete this 5*5 card.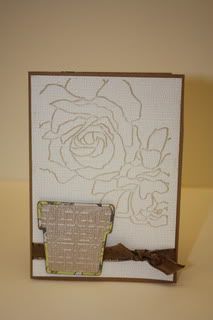 I used a SU embossing folder and Cord'inations WhiteOut--again with the sanding. Remember I am a guy and we all like our tools and I consider a Tim Holtz Sanding block a tool! Embossed the flower pot and used pattern paper for the shadow. Size is A7
Here are a few examples to show a guy can use pink paper as well! LOL!
I love the flat bow which I made in a two step process (1 make the loops, 2 wrap a pc around the center of the loops). Cut the birdcage and top notes and added rows of bling to the cage base. Size is A2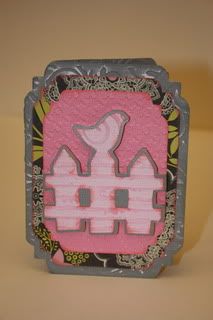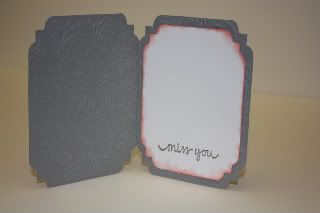 This card base is also from Cricut Songbird. I took a top note shape--sized to be A2 and copied it on my gypsy. I lined them up welded and POOF! a fancy card base was born. I also sized a top note for the front. I debossed the card base so the inside had a lot of WOW as well. Sanded again. Embossed again. Inked the edges of a white top note for the inside and heat embossed the sentiment.
Here
is the cut file for this card--it is in googledocs and can be easily downloaded!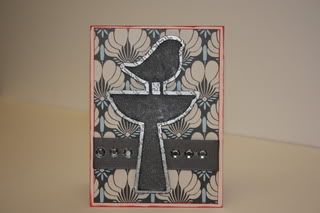 I wanted something simple yet special. I added bling to the ribbon and some glimmer mist to the dark grey birdbath cut. Used the cuddle bug again and think it came out great. Do not be afraid to alter your ribbon with bling, ink, sanding, or washing.
Remembre to check out the sister post on Everyday Cricut and leave comments for you chance to win! While you are there be sure to enter to win the expression they are giving away--you can also click
HERE
.
Thanks for coming by and we will see you next week!
Bryan