Alright--I said I was going to do it so I did! I have made a card--yes just one but there are more to come. I have been reading and looking at books about cards--and really love the shapes and folds--now do I have room for the stamps--NO! I am going to try to keep it to a need only basis--unlike all my other paper craft items.
One of my staff had a birthday this past weekend so this is the card I made for him. I used a stamp set I got at Michales and the Stamp-N-Foil from my CHA finds. Not bad for my first card--and it's a gate fold!
Here you can see the Stamp-N-Foil
And the inside of the card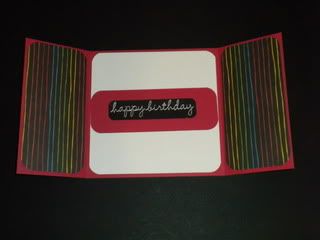 If I had it to do over--I would have done the candles on white so you could really see the foil--thought the black would make it look more mature--live and learn, Right?
Thanks for stopping by!
Bryan