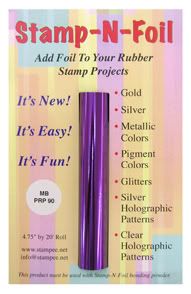 Just wanted everyone to know that Stacey at Stampee.net, makers of the Stamp-N-Foil that I have been using in some of my post and found at CHA-has offered a 10% discount on 20' (yes that is 20 feet) rolls--all you have to do is enter
scrapguy
in the discount code box on the home page!
I want to thank Stacey for being so kind as to offer this promotion and I really hope you all pop over to stampee.net so you can try out this very cool product which I happen to love!
Have a great Friday!!!!
Bryan