OK--NYC was cold and rainy! I love coming home! So today's card is pretty simple. What is so great about the card is that even though it is simple--because it's a multi fold card it really packs a BIG PUNCH! Thanks to Joy over at Obsessed with Scrapbooking and Holiday's with the Cricut for sharing the fold instructions for the base card. I had this idea to make a card that looks like a door and when I found the 'welcome' mat in a DCWV (SONGBIRD) stack it was fate! The door even has a peephole and a door knob!!!!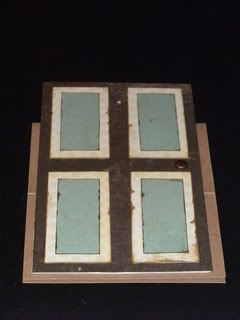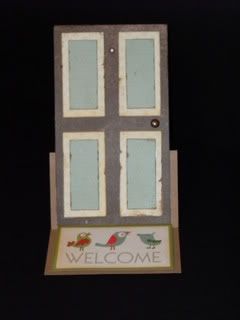 Here are the measurements if you need them:
card base is 11" long by 4 1/2" wide
base of door (larger brown section in picture) is 7" long by 4" wide
middle section of door (cream polka dots) is 3" long by 1 1/2" wide
small section of door (light blue herringbone) is 2 1/2" long and 1" wide
placement on card is simple--1/4" over and 1/4" down or up from each corner and this is the same for all layers.
Peep hole is placed 2" over and 1" down
Door knob is placed 3 1/2" from either top or bottom and 1/2" in
welcome mat measures 2 1/2" long by 4" wide
Thanks for taking the time to take a look and remember I love to read the comments you all leave! Have a great day.
Bryan