TGIF!!! Today I have a birthday card using Cricut Celebrations. I love presents so I made a layered present with a light weight chip board center to add some stability to the overall card. The card is a 4 1/2 square card with a top fold. The base is a bright yellow that just made me think HAPPY BIRTHDAY!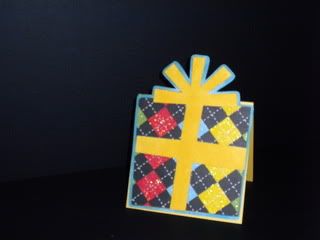 Inside I used a double layer mat, stamped the solid layer using an inkadinkado stamp that reads "blowing you birthday wishes." I also added candles that I stamped and used the Stamp-N-Foil I fell in love with at CHA. Using a white background makes the colors really pop and adding a couple pop dots makes them stand out just enough!
Here is a detail of the Stamp-N-Foil bling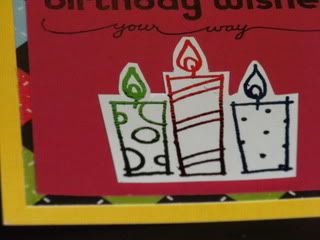 I also added faux stitching to the ribbon to give it a bit more definition once I stared at it for awhile. It was just the right touch it needed.
Well hope you have a great weekend! I am so glad you stopped by!!!
Make it a great one-
Bryan