One day closer to the weekend!!!!! Today I have a card that I made using my cuttlebug to cut rather than emboss.
I found a great deal on a die at Oh My Crafts for next to nothing and thought it would be perfect for this group of projects. I sent them through the sticker maker to make it easier to attach to the card base.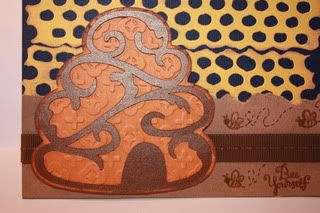 I cut the bee hive from the Cricut Sentimentals Cartridge. I cut the shadow in a rich orange color and sent it through the cuttlebug to add texture. I cut the base base cut in a scrap of brown shimmer card stock which I think adds a little bling but not to much!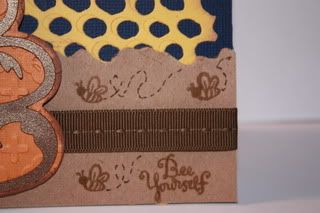 I added a strip of ripped kraft card stock along the base to allow for a grounding layer. I used some deep brown ribbon and the same CTHM stamp set I used yesterday. As I looked at the finished card, or what I thought was finished, i thought there was something missing--and I decided that it was the buzz lines that were missing--used a brown marker to add them in!
I have been making a lot of cards lately and this has to be one of my top 10. It's not perfect but it is unique!
I have a great two page layout to share with you to round out the week. Don't forget to check out Everyday Cricut this saturday for some great Father's Day treats!