YEAH--it's friday! Hope you all had a great week. I am so excited about today's layout I almost showed it to you all yesterday. I want to make sure to give credit where it is due and the idea for the honeycomb cut out did not come from me but I have added my personal touch to it.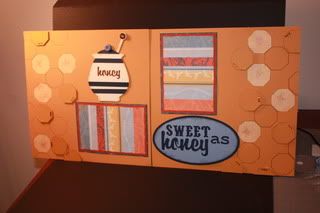 Double layout where I used the Cricut Just Because Cards Cartridge for the sentiment and the honey pot and I used Cricut George for the octagon. I used my gypsy to place the cuts for the honeycomb and then used one of the scraps to trace the rest to form the pattern.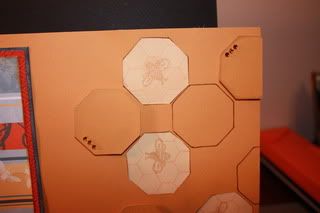 I the detail shots below you can see where I used a CTMH bee stamp and used clear embossing powder and my heat gun to finish off the bees. I added two tones of yellow bling because everything is better with a little bling! All of the sections that have bling are also pop dotted to add some 3D effects. I love my cat eye chalk ink so i used them there as well.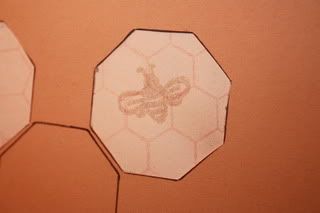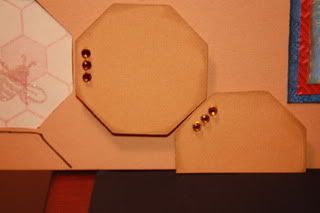 The honey pot was cut at 15", yes 15". Because the items on this cartridge(for the most part) cut in relation to the size of the card--I had to play with it a bit-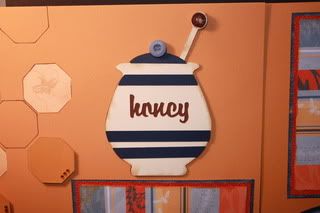 I used the stencil and stencil shadow for the sentiment and it was cut at 4". Of course I inked this cut as well.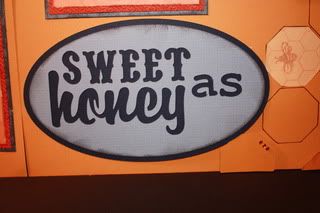 I used a triple layer photo mat for 4X6 inch photos. I added a 1/4" to each layer (4 1/4" x 6 1/4" for the top mat add 1/4" for each additional layer). I used two prints and a solid middle layer that I sent through the cuttlebug using the screen folder from the asian bundle and a little chalk ink.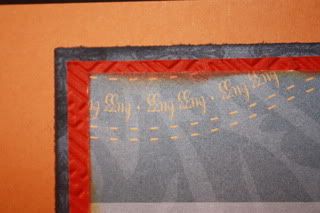 Hope you enjoyed this layout--I love the way it turned out! Don't forget to check out
Everyday Cricut
in the morning as I have a few fun Father's Day items to share!
Have a great day!