First stop on this trip was Hong Kong! One of the things I love about Hong Kong is this wonderful lady and her daughter that I met years ago through a dear friend that make custom jewelry! She has a shop near the Jade market and a stall there as well. My mother has many items from her as do my sister, aunt, and nieces!
This is them hard at work on a couple pcs for me--which I love!!!
This is just a sampling of stones that she has--all sorts! Natural, crystal, Pearl....you name it she has it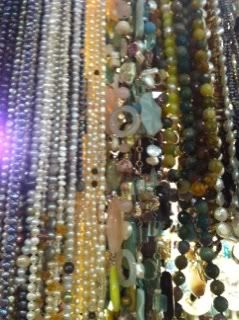 You can also buy by the strand--so you can design and string your own creation!!
Today's blog candy is a beautiful necklace from Virgina that is onyx and shell! Everyone I have given one to has loved it! so leave those comments for your chance to win!