So today our stop takes us about 2 hours outside of Bangkok! Right near the sea shore and nothing like I expected. SO MUCH BETTER!!!!
Picture this.....opening up the patio doors that run two full sides of your room and from all angles you have amazing views. Infinity pool, beach access outside of your door, amazing food, and peace and quite!!!
It was a slice of pure heaven--I can not wait to go back. Even the basic room had amazing views!
This view is what you saw as you walked into the hotel, open air lobby and a view you simply can not pull yourself away from!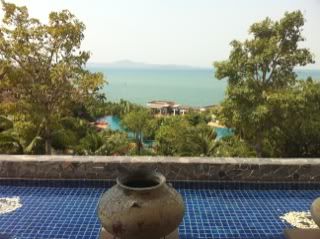 view from one side of my room...............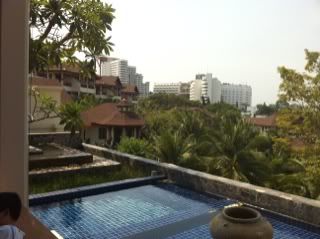 view from the other side!!! not to bad----trust me when I say not all the hotels I stay at are this good!
On Friday I will have a view of Bangkok that I am almost positive few if any of you have seen--at least from this perspective.
Today's blog candy is a beautiful scarf!
leave those comments for your chance to win--no need to be a follower but it would be great if you did!
make it a great one!