Hello everyone--hope all is well! Today I have a couple of cards that are done in a very simple color combo--Black and White! Sometimes the simplest combos can be the most difficult because we as scrappers and card makers tend to like to add and add and add--but some times simple is best!
These three cards were super easy and I was able to complete them all in 35 minutes and only used two pcs of s.e.i. double sided cardstock, one pc of black 12x12 card stock, one pc of white 12x12 card stock, and one pc of red 8 1/2 X 11 card stock and I still had some left over! I used Picturesque on all three!
First the small card--this one is 4X4 half fold. I used the pattern paper on one side for the out side and used the reverse side for the inside and the blackout square in the center. The cut is from pg 74 called far east.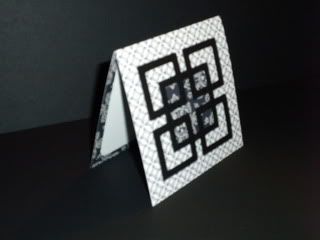 I did a larger version of the same card at 6X6 did the same cuts as before but used a coin I had left from a trip to Hong Kong as the center. I layered red and white card stock for the inside.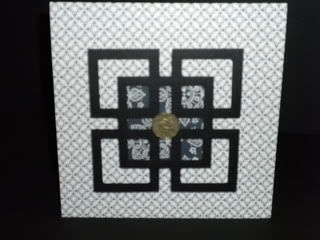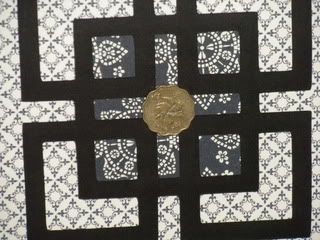 The third card is a gate fold finishing at 6X6. I used the same pattern paper but flipped the inside and outside. I used the Celtic cut on pg 75 as well as the black out-these fit perfectly on the 6X6 when cut at 3 1/2". I added three black pearls to the front at the major intersections. On the inside I just layered black and white card stock cut at 5 3/4" square for black, and 5 1/2" for the white.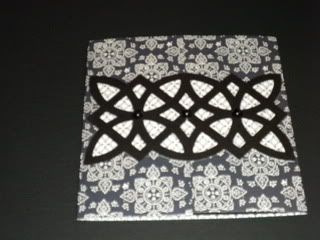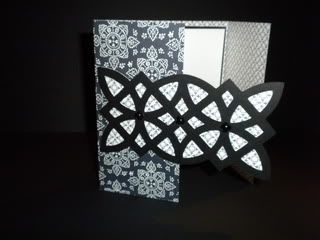 Thanks for stopping in today--this card making journey is fun--i really like that I can accomplish so mush in such a little amount of time! Hope you liked 'em!