Hi all--hope your day is off to a rockin' start! This card was for a very good friend (one of the best) who just moved into a new apartment not far from where I live. The house warming was this past weekend and this is the card I made which was paired with a lovely bottle of vodka.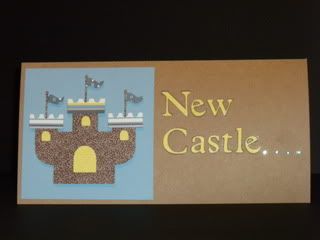 The castle is cut from Life's A Beach and I used some of the papers from the SEI kit which match the colors of the new apartment. I cut the layers but there is no shadow so I just cut a pc of paper that would hide behind the castle to look like lights in the windows.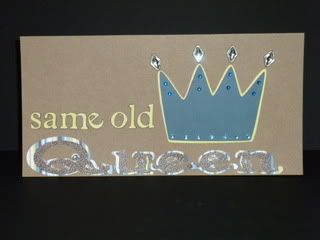 I cut the crown from Celebrations, and the font is Schoolbook and Queen is cut from Hannah Montana. I added lots of bling to help balance the colors which are really 'boy'--here are some detail shots
Added a Cindy Crawford crystal mole to the 'Q' which got more comments than anything else.
If you knew my friend you know this statement fit was a perfect fit.
Thanks for stopping in. Keep watching as there is blog candy in the not so distant future!!!!
Make it a great on-
Bryan