So my best friend had a birthday in SEPTEMBER--I know I am running late no need for comments from the peanut gallery! So here is the back story--when my best friend has had a bit (a lot) to drink he gets this crazy Elvis lip where only one side of the mouth moves when he talks--it is truly funny when it happens! So by the end of the night of the party Elvis had arrived. So I thought it fitting to close his book with this layout.
Background paper is a DCWV black and grey check, Elvis is cut from a shinly silver DCWV and the red letters are cut from a SU paper. Under the picture there is Core'dinations matte that is cuddlebugged with the checkerboard folder that was an OMC exclusive that I sanded down. The picture is attached with ATG tape and some cool paper clips.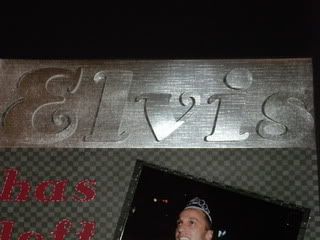 The ELVIS title is cut with Hello Kitty font at 3 1/2". Since none of the letters have spaces inside I could use both the cut mat and the letters--SO I DID.
I pop dotted the letters and moved them about 1/8" to the right when I placed them on the layout. The base layer peeks through and you get a pretty cool effect! Here is a detailed shot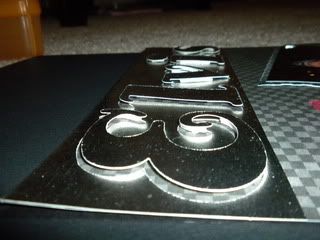 To finish the layout off--I took my white pen and did some 'stitching' around the letters and added a little bling at the end to tie back to the crown he is wearing (which was taken from the birthday girl a few tables over)!
Hope you have a great day!
Bryan