Well Happy Friday--I am on my way back from a business trip but wanted to make sure I remined all of you loyal followers to be sure to check out
Everyday Cricut
on Saturday for the frist new Saturday feature! I am so excited about the projects and of course I will have some really good (well at least I think so) blog candy!
I will be doing a special feature on the 4th Saturday of each month! Not only will I have a post there but I will have a sister post that will have a few suprises as well. Joy and Melanie are amazing people and I am so lucky to have met them as well as been given this wonderful opportunity to share with everyone!
OK--so to keep with my MWF post--here is my take on Easetr baskets this year--I used the topnote cuts from Songbird and made tags for the gift bags and made some sour cream containers in place of Easter Eggs--these are much easier to ship than a real basket!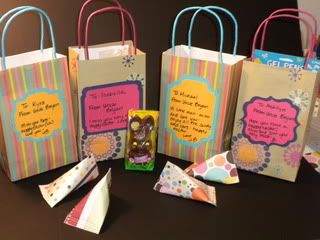 Hope you have a great day and can't wait for you to stop by in the morning to see what I have instore for you both here on my blog as well as on
Everyday Cricut