Well we are half way through another week--where does the time go!!!! I have three beautiful neices and one ball of energy nephew! So this means that when I get to do projects for my nephew I really enjoy it! So this one is for him.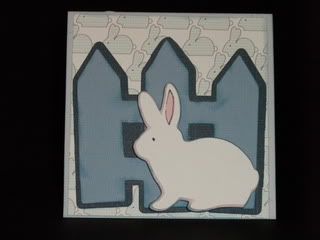 I saw the background paper (which is from Jillibean Soup) and fell in love--I first thought it was clouds but it is rabbits--so I used it as the sky! Using Cricut Songbird I cut the fence in shadow as well to make it really pop! I must admit that this is another cut I altered--this fence has a bird perched on the middle section and I cut it off and used a corner rounder to make the tops all look alike! I cut the rabbit from Cricut Easter in white and the shadow in pink--then I inked the edges pretty heavy to cover the pink around the edge and allow the ear to look a bit more real. I pop dotted the rabbit so the front was not all flat.
I used the rabbit paper again on the inside and cut the topnote from Cricut Songbird in solids. I used another Michael's 1.00 stamp here--I thought it worked perfect with the card. A little silver embossing really helps pop that sintinment.
Thanks for stopping by today-
Bryan