Well if you have not noticed, I have jumped into card making head first! I promise After April you will see lots more layout! Between work, preparing for this massive trip, and a few other special projects time is SUPER LIMITED!
In regards to cards, I like a good mix of fancy fold and the simple standard half fold. Today is a fancy fold--this is my first attempt at this type of card and I think it came out perfect for one of my nieces!
The patterned paper is from My Minds Eye and I used Core'dinations for the solids. I left the two middle sections untouched to help balance it out and leave me a place to write a little note.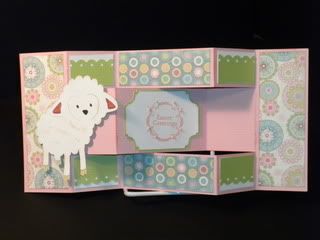 I am pretty new to stamping as well--used a Michale's $1.00 special holiday stamp for this one and added some pink pearls to really make it girly! Here is a detail
I think she is going to like it!
Thanks for stopping by and I hope you have a Great Monday!
Bryan