It's Hump-day and the countdown to the weekend has started! Today I have the first part of a two part 'Thank You' notecard gift that is super easy and only take about an hour total.
I started with a package of notecard (gasp-store bought notecards) from Michael's Dollar Bins.
I took a stamp/punch set, a couple of the new Fiskers punches, some stamps from Paper Trey Ink and CTHM, my cuttlebug with a polka dot folder, some chalk ink and away I went. I also used a couple of cuts form the Cricut Preserves cartridge--there are some great shapes in the labels and lid functions! Here is the results--all 8 cards are different which I really like because it makes the Thank You notes a little more personal.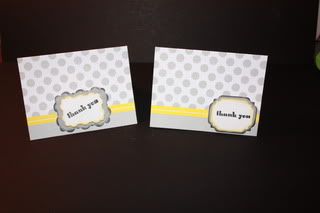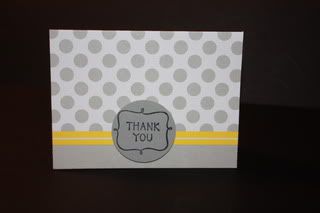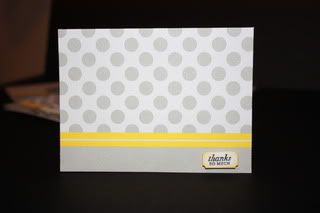 Make sure to come back on Friday and see what I make to put these cards in--no wrapping paper needed! Plus a VIDEO to boot!
You still have some time to enter to win this weeks blog candy. For a chance to win a Cricut Jukebox leave a comment on each post this week and I will announce the winner on Saturday in honor of National Scrapbooking Day!
There is more blog candy to be had from Saturday--you have until 10 PM CST today to leave a comment on
this post
or
this post at Everyday Cricut

Thanks for stopping in-
Bryan
PS--I want to send a special thank you to Lilgreenbug for the wonderful card she sent me! Not only was it great to get mail--but it gave me tons of insepration for a couple projects you will see a little later this summer--Thanks a million!