Hello--I think Wednesday is my day--It's my glass is half full or half empty day--just depends on how the week has been going! I have two cards to share with you all. IF you follow my blog you know I love a top note and if they layer well even better-- so here are two cards that hold true to this style. I love it because it is super simple and pretty quick and they deliver a big bang to the person getting the card!
First up is a card for PAPA--even grandpas love fathers day cards from the grandkids.
I used the man stack form DCVW here. This is a new 'top note' shape for me and it comes from Cricut Preserves and I think I am in love with it--a great photo mat, card layers, or journal block!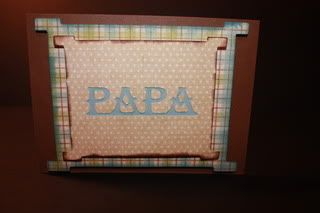 I layered the word art (from Heritage) on top of the top note on my gypsy and was able to get a cut away look--simple yet strong! Of course it would not be a ScrapGuy creation if pop dots were not involved--i love the extra pop they add.
Sadly both my grandpa's have passed, but this fathers day I will be grateful for the time I was able to have with them and reflect on how they helped shape who I am today!
The second card today (to make up for taking Monday off) was fun and easy--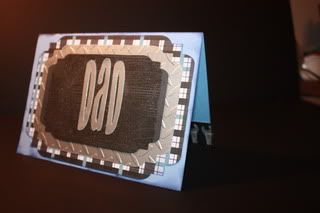 This top note is also from Preserves but you can find a very similar one on Songbird (font is Don Juan)! I inked the edges of the base card and just started to layer using a half inch reduction for each layer.
Here is a detail of the layers. The bottom layer is a printed paper, then you have a silver layer that was sent through the cuttlebug with the diamond plate folder, on top of that I used a black card stock and stamped with VersaMark ink wood grain and used Tim Holtz Distressed Embossing powder which I think turned out great--I may have to do this agian!
(you may have to move your screen to see the embossing!)
To finish it off I added a strip of printed paper that has a wrench head on it--the wrenches are printed in glossy UV and I think tie the handy man built Ford tough look together!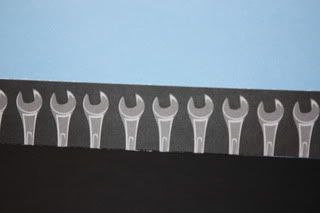 Thanks for stopping in and checking out these two cards. I have a layout for Friday and if by chance I get a few extra minutes--I may have a quick and easy layout to share using some scraps and a simple Cricut cut!
Have a great day-