Happy Monday--only a few weeks till Christmas and this week I have some great and easy to make cards for those of us who waited till now to get our cards in the mail.
Most of you know that my mom and I share this crazy paper crafting hobby--She is a Stampin' Up Rep and I sale Close to My Heart--she did it first than I picked it up. I jumped in feet first and have not looked back.
While I was home this past trip--I saw the card my mother made for this year and it is perfect to share for Scrap Card Monday--she did not use scraps but the layout and the concept can be used for many different occasions.
Of course it is all Stampin' Up paper, ribbon, stamps, markers, ink and even the embossing folder is a SU exclusive (a must have if your a big dry embosser!) I love how she used small pcs of pattern paper and cream-this is where you could use your scraps!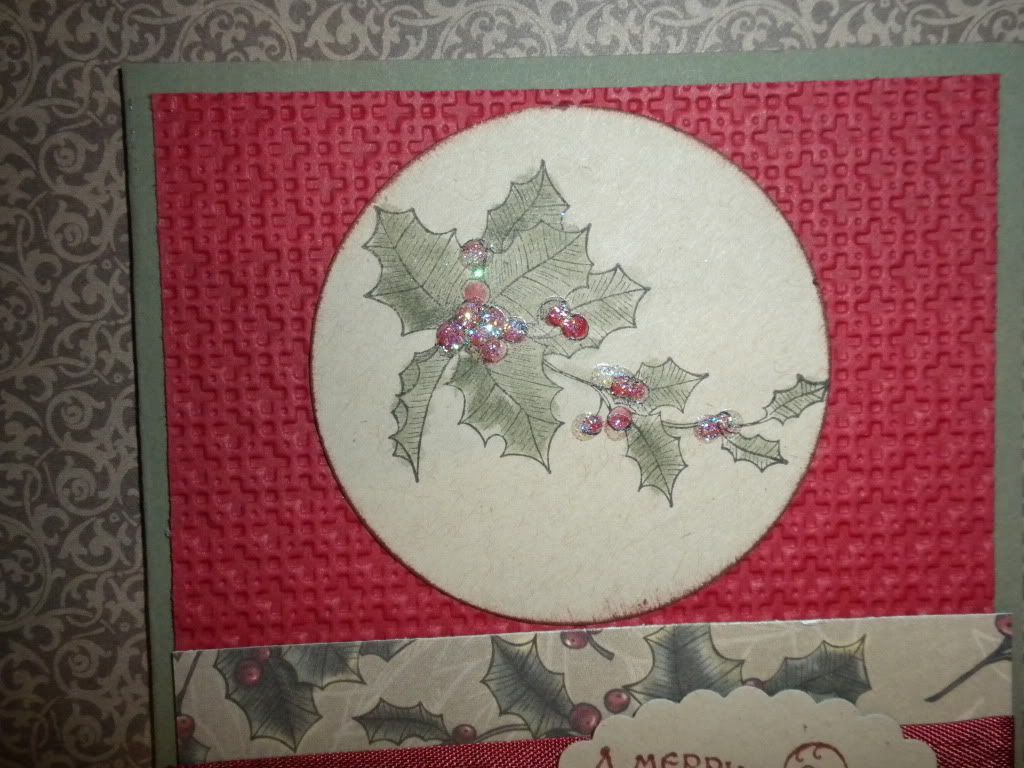 Here is a detail of the top half of the card--a simple punched circle stamped, colored, and stickled. You could also use liquid pearls, bling, or embossing powder for the berries!
In the detail on the bottom she punched a scalloped oval and stamped it! Easy as pie! The vintage feel pattern paper is a great accent that adds a lot and this ribbon (which also comes in brown) is some of the best ribbon I have ever used. You can find it in the holiday mini--hurry as that book is only good for a bit longer. She must have made 40 of these!
Make sure to come back each day this week for a new simple and quick holiday card!
Make it a great one-