Happy Monday! Today I am going to feature two great companies. I decided to put them both on one update as I found them through each other! One will educate you and the other will help you get organized. Who doesn't need a little of both?
First you have to get educated!

If you have ever met Megan from Above Rubies Studio, you know how much passion she has for her business and for sharing her knowledge of the Cricut! I had seen the video and now I have met the woman behind it! Cricut A-Z is a must have for any Cricut user. The step by step instructions are great. So many people have said, "I have taken classes at my LLS why do I need this video?" I am going to tell you! With the video and the instruction by Megan, you can sit with YOUR CRICUT in YOUR HOME with YOUR SUPPLIES and learn each function, what it does, how to use it, and pointers on how to get the most out of the machine. You have to visit the website
http://www.aboverubiesstudio.com/
. Hold on, if you have the GYPSY, you are going to want to bookmark the site, sign up for the emails, and get ready for some education there as well!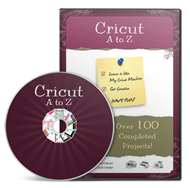 Megan also has a DOWN LOADABLE cut guide with more than 450 cuts listed out! This cut guide is a MUST HAVE for any Cricut user. The guide lists the paper company and line as well as the blade depth, speed, and pressure you need to set your machine at to get a clean cut every time!!! I use mine all the time--and it's free!
Daphne Shreiber the CEO and creator saw a need and developed a product that is multi functional, easy to use, and priced right. The storage solution is based around the box where you can add different inserts to fit your storage needs. I have one for my solutions and mini cartridges as well as one for my stickles and ink refills.
The lids come in different colors so you can have a little style in your organizations as well. They stack on top of each other and can be connected with a strap sold separately so you can carry all you need to a crop or swarm! Once you check out this brief video of how ScrapCessories works you will want to make it your storage solution as well. Check out their website for where ScrapCessories is currently carried and if they don't have it at your LSS--tell them about it. I was able to meet and speak with Daphne at CHA this past weekend and there are more storage solutions on their way.
NOW ON TO THE BLOG CANDY!
Today I am giving away a bottle caddy from ScrapCessories. Once you get this you will wonder what you did with out it! Make sure to leave a comment on today's post for your chance to win! All comments will be entered for the grand prize and winners will be posted all at once since this is CHA BLOG CANDY WEEK! Comment each day for your chance to win. Become a follower and be one of the first to find out what's going on, see new projects, and know of future blog candy giveaways! (one entry per person per day)
Have a great day!