Are you in need of a fresh way to add bling to your cards and layouts--than you should check out Stamp-N-Foil by Stampee.net.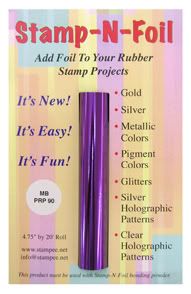 This foil comes in metallics, glitter, as well as metallic and transparent holographics! It super simple to use as well. Simply stamp the image and apply the Foil Bonding Powder, once set apply the Stamp-N-Foil, send through a pouch laminator or use a household iron to set--It's that easy!
The results take bling to a whole other level as you can see in this example from their web site. (http://stampee.net)
Check out the quick demo--then head over to Stampee.net and see the crazy amount of colors and options that Stamp-N-Foil has to offer.
Today's blog candy is a sample assortment of foil cuts and foil bonding powder. All you have to do is leave a comment for today's post and winners will be announced for the entire week at once. When you comment each day you are also entered into the drawing for the grand prize blog candy! Make sure to become a follower so you are one of the first to see what's going on here at Scrapguy.blogspot.com. Have a great day!