Today we are in Jakarta--home to 10M people!! Not a small city--very similar to New York or Chicgo-it is very urban with high rise living and lots of big business!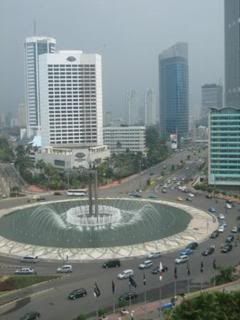 Just like all the other stops--this place is hazey! It seems that every spring this wide spread haze just settles of most of Southeast Asia and it sits there till summer! It was about 95 and super humid--the kind where you sweat coming out of the hotel and you simply want to shower three or four times a day!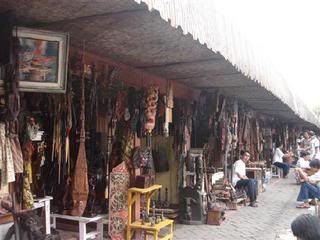 Every place has a market--its all about how much you want to search! By this point in the trip all I want is a good shopping mall with some air condition!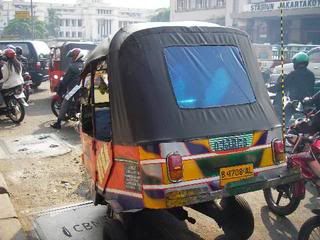 Here is the local transportation of choice--ricshaws and moter bikes--they are everywhere--I have some photos from India where you may see 8 people on one of there! NO KIDDING!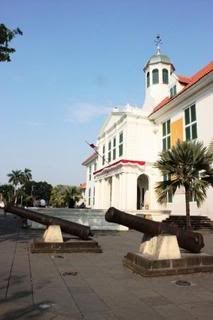 Whenever I travel I try to get to see some histroy as well. It is amazing how much I have and how blessed I am to live in a country where I can be who I want, live where I want, I have all my needs and if you have seen my scraproom--most of my wants--and learing about the places I visit makes me find deeper meaning in the whole experiance! Learing about their history makes me want to know and understand more about ours!
If I showed all my pictures now I would have nothing to show in future projects--so I just wanted to give you a taste of Jakarta--I loved the city and hope to return next year! There is so much more to see that I could spend an entire week and still not get through my wish list!
Today's Blog Candy is a traditional art form from the region. Batik is a process where resist and dye are used to make a beautiful work of art--I had to try this in college--it is a true craftsman art. It reminds me of what a lot of people are doing with copic markers these days--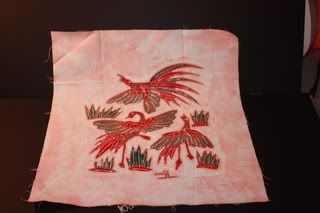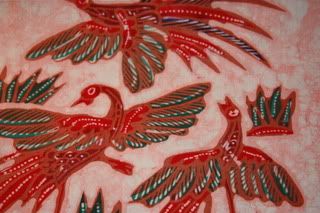 This would make a beautiful pillow or simply framed!!