Happy Friday! I am so glad to be home--if you all knew that my flight from Delhi was canceled at then I had a massive wait for the next flight, had to connect in London and did not get home tell last night and I still get my post done! Now I can breathe----
Well today is the first day of the new design team for
Sarah (the pink cricut)
and
Pink by Design stamps
--I was lucky enough to be chosen to be part of the design team and I was not going to miss the first day! That was not an option!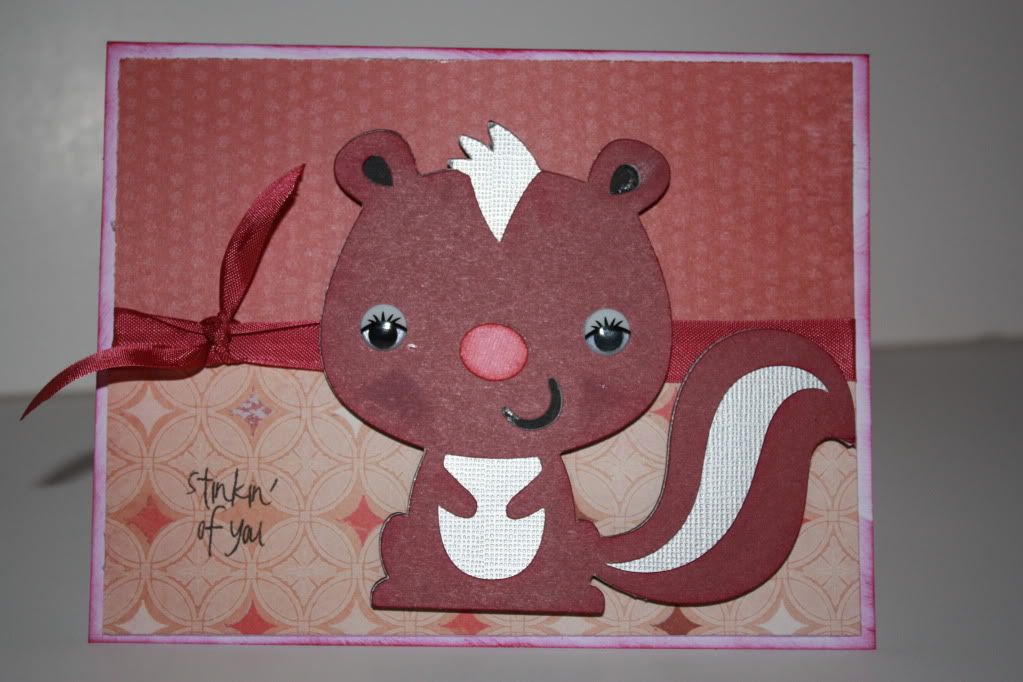 This stamp is a sneak peak of the new Woodland Critters stamp set! You must go to the Pink by Design Store to see all the new release that will be revealed later today--they stamp great right out of the package and the sayings are super cute. Sarah will be releasing them later today so make sure you check her blog and the Pink by Design Store for more details.
Since we are approaching Feb14--I figured I would use a love theme color palette and what seems to be every ones fav cartridge: Create a Critter! I cut the skunk at 4". My Minds Eye is one of my top pick paper companies and I used the front and back of a double sided sheet on this card. A little bit of the SU seam binding ribbon give a nice touch. As you all know this cartridge is pretty easy to layer but I was not loving the black eyes the cut gives me--so I dug through my bin and found these google eyes from Joanne's---I think they really add the needed touch! Sort of a dopey in love look! Don't forget to head over to the
Pink Cricut blog
to see the rest of the talented design teams creations.
Make it a great one